Cremation Urns for Ashes
Honor the life of your loved one by understanding what your options are amongst popular types of cremation urns, at the right price point for you.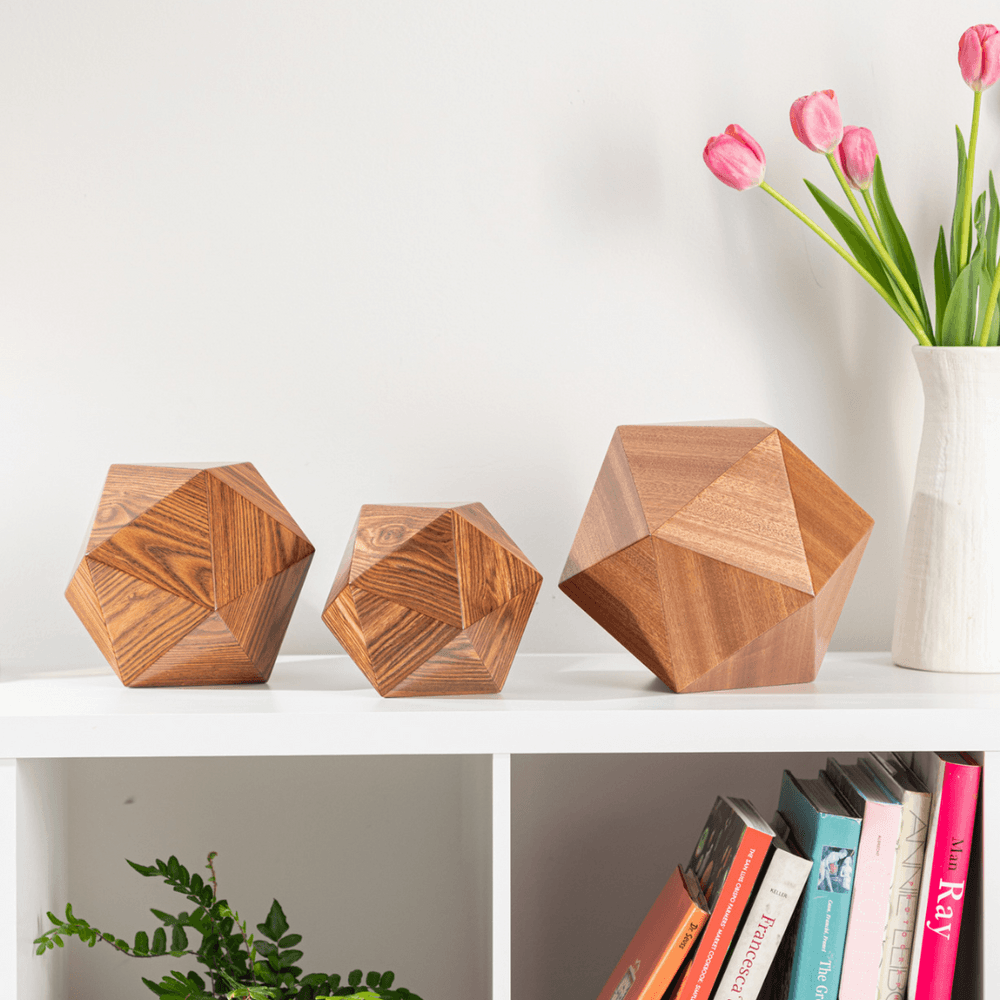 In recent years, cremation has become an increasingly popular choice at the end of life, replacing traditional burials as the most common selection. With cremation, families are able to save money over the costs of a burial while still honoring their loved one in a meaningful and dignified manner.
Selecting urns for human ashes that result from cremation is an important step in the process. Since you probably don't spend much time thinking about urns until you are suddenly facing the reality of selecting one for a loved one who has passed, the shopping process can be overwhelming. At Memoria, we sell urns right here on our site, so you can easily select something that you and your family love and will serve as a suitable tribute for years to come.
What is an Urn?
An urn is simply a container used to store ashes. It's possible to use virtually any container as an urn, although traditional styles look like vases and are often made from durable materials so they can last for many years. While some people will chose to make their own urn as a resting place for a loved one's ashes, most families will purchase one of the many options available on the market today.
Popular Types of Cremation Urns
We'll never be able to cover all of the various types of urns in this single article, but the list below is a good starting point for the options you may want to consider.
Metal urn. This is a traditional option and it offers the notable benefit of being extremely durable and resistant to wear and tear. If you want something that will be passed from generation to generation, metal is a good place to start your search. The prices of metal urns can vary wildly depending on the type of metal used.

Wood box urns. Another elegant and long-lasting option is a wooden urn. These can take many different shapes but are often simple rectangular boxes made from hardwoods for durability. As with metal, the specific material in question is going to have a lot to say about the cost of the urn, as some wood species are more expensive than others.

Ceramic Urns. If you would like to bring color and design into the equation, it might be a good idea to look at ceramic urns. There are endless options available in the ceramic category, and these tend to be rather affordable.
How Much Does an Urn Cost?
You may not be surprised to learn that urns come in a huge range of prices from very affordable to quite expensive. It's possible to purchase a permanent urn for less than $100, while it's also easy to spend thousands for a more decorative piece made from higher-end materials. Ultimately, every family will have their own budget for this purchase, so think about what you can spend on an urn and then shop within that price range to find something that everyone will love.
Urn Necklace for Ashes – An Optional Extra
In addition to the standard urn that will house most of the ashes, some people turn to necklace urns to add another meaningful item that they can keep with them all the time. Something like a gold urn necklace will hold just a small amount of ashes, but it might wind up being the piece that means the most to you as the years go by. Of course, gold is just one of many possible materials when shopping for urn necklaces for ashes, so it's easy to find something that fits your style and budget.
How to Transfer Ashes to an Urn
The process of safely transferring ashes into an urn is going to depend on the style of urn that you select. Traditionally, a cremation urn is going to open from the bottom, so you will turn it over to loosen the base and open up the inside of the urn. With that done, the ashes can simply be placed into the urn carefully, taking your time to avoid any accidents or damage to the urn. With the ashes in place, return the base to the urn and tighten it.
Work with Memoria Today
Adding stress to your life is the last thing you need during this difficult time. At Memoria, we aim to take away that stress by helping you through the process of honoring your loved one. Whether it is securing a beautiful urn, taking over funeral logistics, or getting a fair price on the services you need, Memoria is here to help. Reach out today to get started for free.